CML Newsletter, January 2021
For Chronic Myeloid Leukemia Patient Group Advocates
CML Advocates Network, January 2021
ELN Recommendations 2020: patient-friendly summary now in 12 languages!
Download the Patient-friendly Summary of the ELN 2020 CML Treatment Recommendations, available now in 12 languages and more are coming: English, Spanish, Croatian, French, Polish, Romanian, Serbian, Arabic, Hebrew, Czech, German and Russian.

We welcome community translations by member organisations of CML Advocates Network. If you are interested in getting a translation to your language, please, contact us at
info@cmladvocates.net
.

632 Chronic Myeloid Leukemia: Therapy— Building The Future CML.
45 Nilotinib Vs. Dasatinib in Achieving MR4.5 for Newly Diagnosed Chronic Myeloid Leukemia: Results of the Prospective Randomized Phase 3 Study, JALSG CML212. Itaru Matsumura, MD, Ph.D.

46 Bosutinib (BOS) Versus Imatinib for Newly Diagnosed Chronic Phase (CP) Chronic Myeloid Leukemia (CML): Final 5-Year Results from the Before Trial. Tim H Brümmendorf, MD.

47 Do Not Miss Karyotyping at Chronic Myeloid Leukemia Diagnosis: An Italian Campus CML Study on the Role of Complex Variant Translocations. Massimiliano Bonifacio, MD.

48 Outcome By Mutation Status and Line of Treatment in Optic, a Dose-Ranging Study of 3 Starting Doses of Ponatinib in Patients with CP-CML. Jorge E. Cortes, MD.

49 Mutated Cancer-Related Genes Detected at Diagnosis of CML and a Novel Class of Variant Associated with the Philadelphia Translocation Are Both Independent Predictors of Inferior Outcomes. Naranie Shanmuganathan, FRACP, FRCPA, MBBS.

50 Predictive Factors for Overall Survival in Chronic Myeloid Leukemia Patients: An Analysis By the Gimema Cml Italian Study. Patrizia Pregno.

Education Program. Handling Challenging Questions in the Management of CML.
First Generation vs. Second Generation TKI – Which is Best At Diagnosis of Chronic Phase CML? Vivian G. Oehler, MD.

When is it safe to stop TKIs? Delphine Rea, MD, Ph.D.

How to manage CML patients with comorbidities? Jorge E. Cortes, MD.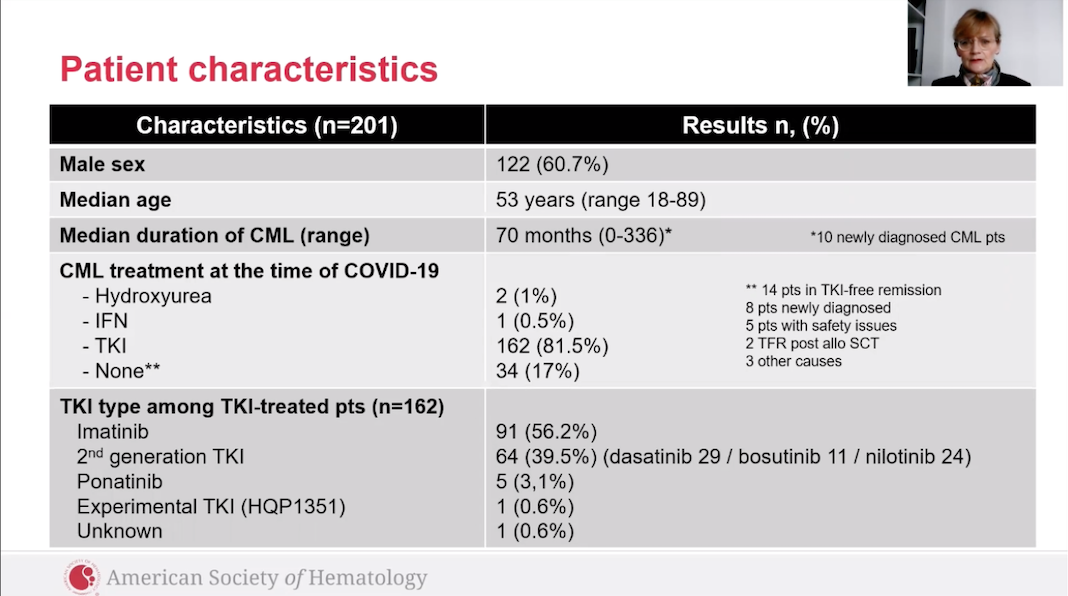 632: Chronic Myeloid Leukemia: Therapy: CML: New and Beyond.
647 Efficacy and Safety of Ponatinib (PON) in Patients with Chronic-Phase Chronic Myeloid Leukemia (CP-CML) Who Failed One or More Second-Generation (2G) Tyrosine Kinase Inhibitors (TKIs): Analyses Based on PACE and Optic. Hagop M. Kantarjian, MD

648 Peripheral Blood CD26+ Leukemia Stem Cells Monitoring in Chronic Myeloid Leukemia Patients from Diagnosis to Response to TKIs: Interim Results of a Multicenter Prospective Study (PROSPECTIVE FLOWERS). Monica Bocchia

649 COVID-19 in Patients (pts) with Chronic Myeloid Leukemia (CML): Results from the International CML Foundation (iCMLf) CML and COVID-19 (CANDID) Study. Delphine Rea, MD, PhD

650 Asciminib, a First-in-Class STAMP Inhibitor, Provides Durable Molecular Response in Patients (pts) with Chronic Myeloid Leukemia (CML) Harboring the T315I Mutation: Primary Efficacy and Safety Results from a Phase 1 Trial. Jorge E. Cortes, MD

651 Novel BCR-ABL1 Tyrosine Kinase Inhibitor (TKI) HQP1351 (Olverembatinib) Is Efficacious and Well Tolerated in Patients with T315I-Mutated Chronic Myeloid Leukemia (CML): Results of Pivotal (Phase II) Trials. Qian Jiang, MD

652 Phase 1 Trial of Vodobatinib, a Novel Oral BCR-ABL1 Tyrosine Kinase Inhibitor (TKI): Activity in CML Chronic Phase Patients Failing TKI Therapies Including Ponatinib. Jorge E. Cortes, MD.

Special Interest Session: The 2020 Pandemic: Latest Insights on COVID-19.
Do COVID-19 Patients Face Increased Risk of Thrombosis? Saskia Middeldorp, MD, PhD.

How Can Community-Based Surveillance Strategies for Sars-Cov-2 Inform Pandemic Planning? Helen Chu, MD, MPH.

Education Program: Improving Symptom Control for Children with Hematological Malignancies.
Symptom Screening in Routine Care – Time to Move Beyond Research? Lillian Sung, MD,PhD

Capturing Treatment Toxicities in Clinical Practice. Tamara P. Miller, MD,MSc.

Interventions to Improve Symptoms. Robert Phillips, MD.
Conversations on CML – CML Highlights from ASH 2020
Watch
this video
of the International CML Foundation conversation with Professors Giuseppe Saglio, Susan Branford and Susanne Saußele featuring biological and clinical aspects #CML highlights of #ASH20.
15°C
Hrvatska udruga leukemija i limfomi
predsjednik Dražen Vincek
Trg hrvatskih velikana 2/ll
10 000 Zagreb
GSM: +385 (0)91 4873 561
TEL: +385 (0)1 4873 561
e-mail: udruga.hull.zagreb@gmail.com
Web adresa: www.hull.hr
IBAN: HR 36 2340 0091 1100 4711 4
SWIFT CODE: PBZGHR2X
Istaknuti sponzori HULL-a