HULL DONOSI KONAČNO IZVJEŠĆE S CML HORIZONS VIRTUAL CONFERENCE - SVJETSKOG SKUPA PREDSTAVNIKA UDRUGA KOJE OKUPLJAJU OBOLJELE OD KRONIČNE MIJELOIČNE LEUKEMIJE (KML) U SUSTAVU CML ADVOCATES NETWORKA
CML Horizons 2021. u virtualnom obliku privukao je veliko zanimanje s blizu 300 registracija iz 74 zemlje iz svih krajeva svijeta.
Program 19. konferencije sastojao se od 3 poludnevna predavanja od 22-24. listopada 2021. godine (petak-nedjelja) sa 150 dnevnih sudionika, a iz svakodnevnih povratnih informacija udruga članica pokazalo se da je ovaj virtualni događaj još jednom bio iznimno uspješan.
U nastavku možete pogledati sve što se je odvijalo tijekom sva tri dana događanja u okviru te velike obitelji, sa mnoštvom korisnih informacija za oboljele od te hematološke dijagnoze.
Dražen Vincek
CML Horizons 2021 Virtual Conference Information
2021 CML Horizons virtual event attracted high interest with close to 300 registrations from 74 countries from all corners of the world. The 19th Conference Programme consisted of 3 half days with 150 daily participants and from the daily feedback we were receiving from our members it showed that once again this virtual event was immensely successful.
Regional Sessions
As in the past years this year our members came together outside of the programme to attend the virtual regional sessions, where we were able to continue sharing ideas, exchange information on how COVID-19 has impacted each region, how they can work together to enhance their organisations and how the CML Advocates Network can help our members grow and engage with us so that together we can strengthen each region.
CML Advocacy Poster Room
Our invitation to feature a digital poster in the special "Poster Room" on the CML Horizons platform was popular: 21 advocates showcased their organisations' activities.
Networking lounge
One of the key areas of our face-to-face Horizons is of course the opportunity to network across borders where our members can share best practices, interact, and exchange ideas. This year we all could feel the need to continue with this and we connected at the end of Friday and Saturday at our special networking lounge on the CML Horizons hosted by our management team Denis Costello, Lidija Pecova and Celia Marin with approx. 35 members connected each time.
Social Media Activity
Close to 200 posts were published on social media channels (Facebook, Twitter and LinkedIn) just by the CML Advocates Network accounts during the conference. Particularly on Twitter, engagement was great so that many attendees were sharing sessions' content and comments through over 400 tweets reaching almost 1 million impressions of the official hashtag of the event, #CMLHZ21.
CML 101
CML Horizons 2021 Welcome and Opening
CML Horizons 2021 Medical #1: The pandemic's impact on CML (treatment access, care & vaccines)
CML Horizons 2021 Medical #1:  Impact on patient organisations – Case Study 1
CML Horizons 2021 Medical #1:  Impact on patient organisations – Case Study 2
CML Horizons 2021 Medical #1:  Impact on patient organisations – Case Study 3
CML Horizons 2021 Medical #2: Other new drugs & new clinical trials?
CML Horizons 2021 Medical #2: TFR: still a good option for patients?
CML Horizons 2021 Advocacy #1: CML Community Advisory Board update
CML Horizons 2021 Advocacy #1: Regional Projects: Africa & Middle East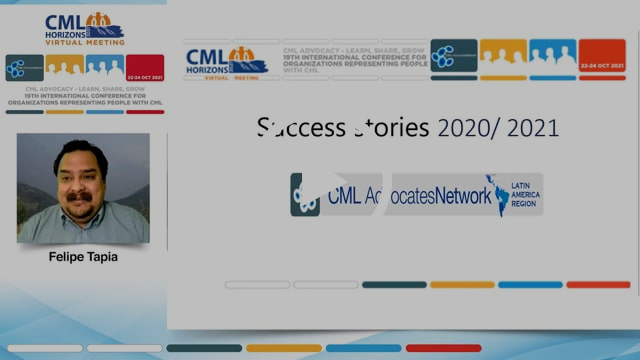 CML Horizons 2021 Advocacy #1: Regional Projects: Latin America
CML Horizons 2021 Advocacy #1: World CML Day
CML Horizons 2021 Advocacy #1: CML Registry App
CML Horizons 2021 Advocacy #1: What's planned for 2022
1°C
Hrvatska udruga leukemija i limfomi
predsjednik Dražen Vincek
Trg hrvatskih velikana 2/ll
10 000 Zagreb
OIB:51774844072
MB: 01136763
REG. BR.: 00000797
GSM: +385 (0)91 4873 561
TEL: +385 (0)1 4873 561
e-mail: udruga.hull.zagreb@gmail.com
Web adresa: www.hull.hr
IBAN: HR 36 2340 0091 1100 4711 4
SWIFT CODE: PBZGHR2X
Igor Delač- Samo zbog vas
(Ivan Zečić/Miroslav Zečić – Miroslav Zečić/Ivan Zečić) ℗ 2021 Croatia Records
Istaknuti sponzori HULL-a