PRENOSIMO SPECIJALNO IZDANJE BILTENA CLLAN-a ZA LIPANJ 2022.
Osim podsjetnika da se možete uključiti u anketu ukoliko se brinete za neku osobu oboljelu od leukemije (poveznica na anketu je u izvornom tekstu biltena), možete pročitati i o novom "alatu" CLLAN-a, a to je popis svih organizacija diljem svijeta koje pružaju podršku pacijentima oboljelim od CLL-a te je moguće pretraživati po regijama ili prema resursima. 

CLL Matters
The CLL Advocates Network´s Newsletter

              –  SPECIAL EDITION JUNE 2022 – 

Release of the CLL Advocates Network's Resource Hub!

The big day has finally arrived! 
As of today, the CLL Advocates Network has launched a new tool – The Resource Hub.

The Resource Hub is a global directory of chronic lymphocytic leukemia (CLL) support services and resources. It lists organisations worldwide that have CLL patient support in their remit and enables the search of support organisations by region or by resources/country/scope of organisation.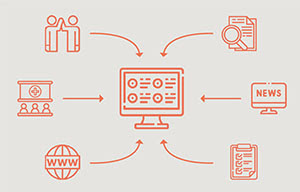 The Resource Hub was developed based on the results of CLLAN´s Global CLL Resource Mapping and Unmet Needs Survey carried out in 2021. It includes organisations that have participated in the survey and submitted details of their organisations and others that have been identified in our mapping exercise as CLL support organisations.

Please follow the link to visit the new Resource Hub
www.clladvocates.net/cllresources

Get in touch!
We'd love to hear what you think of the Resource Hub. Your feedback will help us determine what features to add and how we can make the Resource Hub better in the future.

Please spread the word with your colleagues, family and friends!
If you are aware of any other organisation that offers support and resources to CLL patients and is not listed here, we would appreciate if you could let us know. This is a community effort, and we truly believe that this new tool will be of benefit to many. The more complete and inclusive, the better!

The CLL Advocate´s Network Resource Hub has been a major undertaking, and we´d like to thank the following sponsors for supporting this initiative:



Carer Experience Survey – We would really like to hear from you!

Do you care for, or provide support to a person with a diagnosis of ALL, AML, CLL or CML? If so, we would really like to hear from you!

Three global patient advocacy organisations are carrying out a study to understand the experiences and views of people who care for, or support leukemia patients.

The Acute Leukemia Advocates Network (ALAN), in partnership with the CLL Advocates Network (CLLAN) and CML Advocates Network (CMLAN), are running a worldwide survey to collect information on the 'carer perspective' of the care, treatment and support leukemia patients receive, as well as any personal impact the diagnosis has had.

If you have had a diagnosis of ALL, AML, CLL or CML, and have someone who provides you with care or support, we would really appreciate it if you could ask them to take the time to fill in the following survey. It will take around 20-30 minutes to complete. 

The more people we can reach, the better the data. In order to make the survey as accessible as possible, we have translated it in 11 languages: English, Arabic, Brazilian Portuguese, French, German, Hebrew, Italian, Korean, Simplified Chinese, Spanish and Russian.

Please, share this survey within your patient communities and help us to generate patient-based evidence on leukemia!

Complete our survey: www.myonlinesurvey.co.uk/ALAN22/
NOT YET A CLLAN MEMBER?
Become a member and benefit from the many benefits! Please refer to our website to learn more about the 
types of members and member rights
. We look forward to receiving your member application and welcoming you to our network!
15°C
Hrvatska udruga leukemija i limfomi
predsjednik Dražen Vincek
Trg hrvatskih velikana 2/ll
10 000 Zagreb
OIB:51774844072
MB: 01136763
REG. BR.: 00000797
GSM: +385 (0)91 4873 561
TEL: +385 (0)1 4873 561
e-mail: udruga.hull.zagreb@gmail.com
Web adresa: www.hull.hr
IBAN: HR 36 2340 0091 1100 4711 4
SWIFT CODE: PBZGHR2X
Igor Delač- Samo zbog vas
(Ivan Zečić/Miroslav Zečić – Miroslav Zečić/Ivan Zečić) ℗ 2021 Croatia Records
Istaknuti sponzori HULL-a