DONOSIMO NAJNOVIJE IZDANJE BILTENA EUROPEAN CANCER PATIENT COALITION (ECPC)
Bilten ECPC-a vam donosi najnovije vijesti iz europske zajednice pacijenata oboljelih od raka, razvoj pristupa liječenju, nadolazećim događajima i nove mogućnosti.

U ovom izdanju: Dijelimo s vama naše novosti i nove prilike za uključivanje u istraživačke projekte usmjerene na pacijenta. Govori se o sudjelovanju ECPC-a u događajima na visokoj razini koji oblikuju pristupu raka dojke, kao io knjizi koju su objavili češki pacijenti s rakom dojke posvećenoj onima koji su suspektni ili već imaju dijagnozu, njihovim obiteljima i prijateljima. Možete pročitati članke o nadolazećim događajima kao što su EU Health Summit, ESMO kongres 2022., Svjetski kongres o raku 2022.!

Izvor: ECPC
Monday, 29 August 2022 – n. 6
Welcome to the new edition of the ECPC Newsletter.

ECPC brings you the latest news from the European cancer patient community, policy developments, upcoming events, and new opportunities.

In this edition: We share with you our news and new opportunities to get involved in patient-centred research projects. We will talk about the participation of ECPC in high-level events that are shaping cancer policy, as well as a book published by Czech breast cancer patients dedicated to those who are just suspicious or have already been diagnosed, to their close relatives and friends. Don't forget to take a look at the upcoming events like the EU Health Summit, the ESMO Congress 2022, the World Cancer Congress 2022!

Check out the new edition of the ECPC Newsletter for this and more.
ECPC attended the Expert Conference on Oncology
ECPC was honored to be the only patient organization to have been invited at the Expert Conference on Oncology ''Modern Cancer Control: Saving Lives through Smart Solutions'' organized by the Czech Presidency of the Council of the European Union on 13-14 July in Brno, Czech Republic. On this occasion, ECPC emphasized the need for cancer patients' organizations to be involved in the process of establishing Comprehensive Cancer Infrastructures* (CCIs) at the EU level and the importance of patients being at the centre of the digital momentum.

ECPC President, Francesco de Lorenzo and ECPC Senior EU Affairs Manager, Dr. Adela Maghear represented the organization as official delegates and brought their input to the expert conference.

What are Comprehensive Cancer Infrastructures (CCIs)?
Comprehensive Cancer Infrastructures (CCIs) are national or regional infrastructures that provide resources and services to support, improve and integrate cancer care, research, training of care professionals and education for cancer patients, survivors and families/carers. Different formats of Comprehensive Cancer Infrastructures are possible, including existing Comprehensive Cancer Centres or Care Networks.
Autumn readings – An insightful and inspiring Czech publication full of advice and personal experiences
You are not alone – A guidebook to breast cancer is a captivating and beautifully illustrated book written by women suffering from breast cancer, dedicated to those who are just suspicious or have already been diagnosed, and also to their close relatives and friends. Through its pages, they deal with womanhood, motherhood, self-confidence, love, relationships, work, self-esteem, and much more.
They pour their thoughts, hopes and experiences on every line, providing information they have collected for over ten years, and also sharing the advice of experts they have trusted and cooperated with. This book's mission is to highlight the crucial importance of breast cancer prevention and to bust the myths around it.
The book is free for newly diagnosed women during treatment. If you would like to learn more and order a copy, please contact nejsinatosama@gmail.com.
The European Commission intends to start a process towards establishing a European Radioisotope Valley Initiative (ERVI) that aims to maintain Europe's global leadership role in the supply of medical radioisotopes and help accelerate the introduction of new radioisotopes and production methods.

For this reason, we are sharing with you a consultation link to actively contribute to help define the common set of ERVI objectives.

The consultation will be open until 14 October 2022 at 6:00 PM.

Following the consultation period, the next steps will be the publication of the results and a first meeting of the ERVI stakeholder's group by the end of the year.
INTERVENE project survey: Polygenic risk scores
Help us contribute better to the prevention, diagnosis and treatment of diseases
Are you working in pharma? And are you interested in the value of polygenic risk scores? You can help us understand how polygenic risk scores are currently being used by completing a survey.

INTERVENE is a Horizon 2020 project with an international consortium of 17 partners. INTERVENE is developing new and improved polygenic risk scores including a platform for automated risk score generation and return to users and we would like to better understand how polygenic risk scores can contribute better to the prevention, diagnosis and treatment of diseases. 

As a project partner, Ttopstart is currently working on a stakeholder analysis and would like to understand how polygenic risk scores are currently being used.

This survey should take approximately 10 minutes to complete.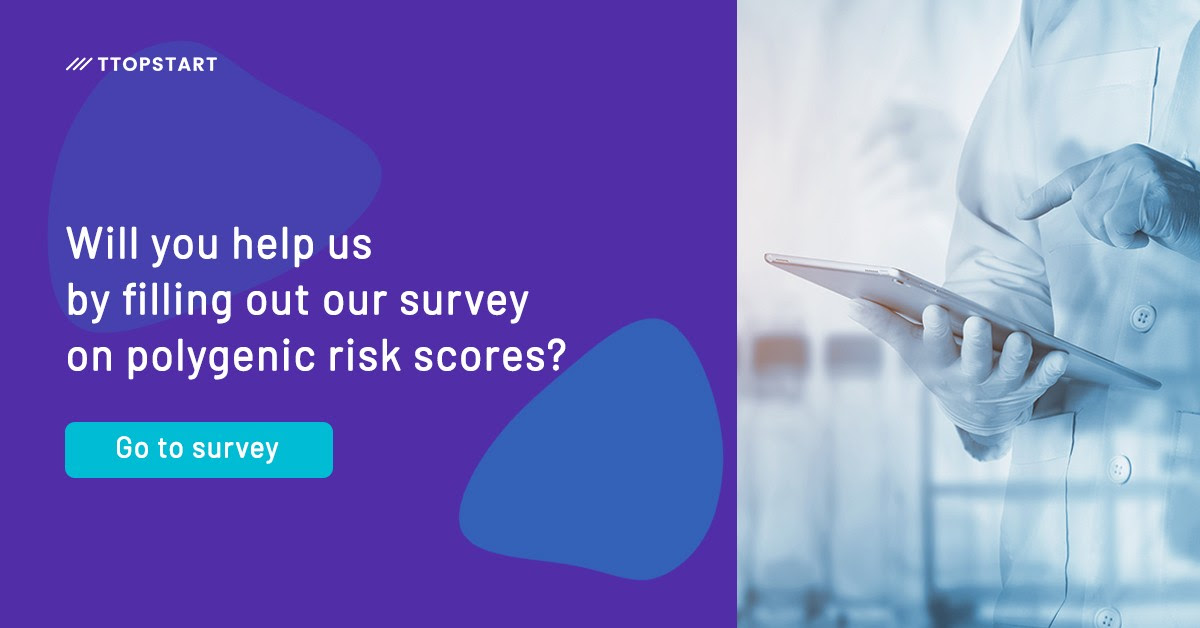 What are Polygenic risk scores?
Polygenic risk scores (also known as polygenic scores and genetic risk scores) represent the total number of genetic variants that an individual has to assess their heritable risk of developing a particular disease.
Immune-Image consortium survey on immunotherapy in cancer
ECPC and TTOPSTART, our partner in the Immune-Image consortium, have designed and developed a survey to help understand a new successful anti-cancer treatment, Immunotherapy.

The survey also focuses on raising awareness of European cancer patients on the application of imaging techniques, in order to improve and extend the use of this promising therapy.

The survey will be used by the Immune-Image consortium to provide a fast and economical way to better use Immunotherapy in cancer patients. The use of the responses will be restricted to improve the functioning of the European project to achieve results that will ameliorate the quality of life for cancer patients around the EU.

We are looking forward to receiving your responses!
 
Are you an adult living with advanced renal or liver cancer? 
 Your contribution to the University of Glasgow survey is important!
The University of Glasgow is organising research on adults' advanced renal and advanced liver cancer which is funded by the European Oncology Nursing Society. See the flyer below to learn how patients can collaborate by completing a survey.

The project set off in January 2021 and will end in September 2023. For more information, click here.
Invitation to join ECPC and Lifechamps Focus Group
ECPC is a partner in Lifechamps project which aims to address the inherent complexity caused by cancer treatments and to act in the monitoring of health status and improvement of Quality of Life (QoL) in a significant manner by using emerging technologies in the fields of Big Data, Data Analytics, and Artificial Intelligence (AI).

We would like to invite 10 patients with breast, prostate or skin cancer (<65 years old) based in Belgium or the Netherlands to take part in a focus group to demonstrate the technological developments of the project and receive their feedback. Travel expenses (train tickets) will be reimbursed for participants by ECPC.

The focus group will be in English, between 1.5 to 2 hours long and will be organized in the ECPC offices on the 20th September.

If there are any patients interested in taking part please contact Ms. Eleonora Varntoumian, who is leading the ECPC efforts for this project: eleonora.varntoumian@ecpc.org by Tuesday, 6th September at the latest.

For more information on the LifeChamps project, click here.

We would like to thank you all in advance for your collaboration.
| | |
| --- | --- |
| 📆 When: 20 September 2022 | 📍 Where: ECPC Offices, Av. des Arts 6, 1210 Saint-Josse-ten-Noode, Brussels, Belgium |
The ECPC at the European Conference of Oncology Pharmacy
On Friday 1st July, in Hamburg, ECPC Senior EU Affairs Manager Dr. Adela Maghear was invited speaker at the European Conference of Oncology Pharmacy (ECOP5). Her talk focused on social disparities in terms of access to oncology and health-related quality of life services for cancer patients and their families and the policy tools in place at the EU level to address these.

Despite advances in policy supporting access to diagnosis, treatment and survival for people with cancer, there still are considerable inequalities, exclusions and disparities in Europe, both between and within Member States. The EU's Beating Cancer Plan is an important EU Initiative that  addresses such inequalities and ECPC, through its advocacy and policy activities, works to ensure that the ambitions listed in this Plan become a reality at the national level.
ECPC Director, Dr. Charis Girvalaki, was awarded by the ENSP
ECPC Director, Dr. Charis Girvalaki, was awarded by the ENSP (European Network for Smoking and Tobacco Prevention), for her outstanding contribution to tobacco control across and beyond Europe.

The ENSP is an international non-profit organisation, created in 1997 that seeks to implement the WHO Framework Convention on Tobacco Control (WHO-FCTC) in Europe and to reduce the prevalence of tobacco use in Europe to less than 5% by 2040. ENSP also aims to create greater coherence among smoking prevention activities and to promote comprehensive tobacco control policies at both national and European levels.

Moving towards a #TobaccoFreeGeneration by 2040 is a flagship initiative by the European Commission. ECPC aims to provide relevant information and expertise to improve smoking cessation policies and support patients develop healthier lifestyles.
Accelerating Clinical Trials in the EU: publication of 2022-2026 workplan
The European Commission (EC), the Heads of Medicines Agencies (HMA) and the European Medicines Agency (EMA) have published the 2022-2026 workplan of the Accelerate Clinical Trials in the EU (ACT EU) initiative. The workplan has been prepared based on the recommendations of the European medicines agencies network strategy to 2025 and the European Commission's Pharmaceutical Strategy for Europe.
 
The initiative launched in January just before the Clinical Trials Regulation (CTR) became applicable and seeks to promote the development of high-quality, safe and effective medicines by strengthening the European clinical trials environment. The workplan is structured in line with the ten priority actions of ACT EU and highlights key focus areas, such as innovation in clinical trials, robust methodologies, and collaboration across stakeholders.
 
To find out more please click here for the joint press release on ACT EU.
Please, 
share with us
 your news and activities so we can include them in the next newsletter. 
The EU Health Coalition is delighted to invite you to its 3
rd
EU Health Summit to map the future of the European Health Union.
 
The event will build on the stark lessons learned from COVID-19 and discuss how to go beyond the status-quo in health, seizing opportunities to make positive changes. It will ask what it takes to build a successful EU Health Union centered on people, innovation, and value-based care so that Europeans' health is better protected and our health systems are performant and resilient.

The EU Health Summit will reflect on progress towards reaching the EU Health Coalition's 2020 recommendations and look at how we can power the change towards a stronger Health Union.

Change always begins by empowering and partnering with people. We hope that you will join us on site on 15 November so that we can shape the future of health in Europe, together!
| | |
| --- | --- |
| 📆 When: 15 November 2022 | 📍 Where: Flemish Parliament, Brussels (Rue de Louvain 86, 1000 Bruxelles) |
The EU Health Coalition is composed of 43 patient organisations, EU research-oriented medical societies, industry organisations, healthcare providers, regional and local health authorities and other relevant stakeholders, who all share a common vision. To find out more about the work of the EU Health Coalition, please visit our website here.
ECPC partnership meeting during ESMO Congress 2022
The 
ESMO Congress 2022 
provides the opportunity to get back into the excitement of 
face-to-face meetings
 and the unbeatable 
networking 
opportunities they provide.
ECPC 
is organizing a two timeslots partnership meeting to present the 
Action Plan 2023 
on September 10
th
, from 7:00 to 12:30 CET, in the «Salle de Lecture» room, at Châteauform' City La Manufacture. If you are interested to participate and meet our team, please register 
here
.
Whilst invited Faculty will be presenting live from 
Paris
, the innovative, 
LIVE Plus
, Congress format will offer participants the option to 
attend in person
, in Paris, or 
online
, through a virtual platform, from 9
th
 to 13
th
 September 2022. You can access the 
Congress' programme here
.

Attendees will have the chance to learn first-hand, about practice challenges and controversies, brainstorm with peers and explore further opportunities to advance their careers. The Congress will continue to offer the convenience of an interactive virtual format for those who may choose to take part from a distance.
Multi–Stakeholder Workshop on Patient Access and Engagement in Oncology Drug Development
The Cancer Drug Development Forum (CDDF) is organising a Multi–Stakeholder Workshop on Patient Access and Engagement in Oncology Drug Development. The event will take place the 19
th
 and 20
th
 September 2022, in a hybrid format, in Amsterdam, Netherlands.

This Workshop will provide an opportunity to discuss and debate how patient access and involvement in oncology drug development can be enhanced to ensure a truly patient-centred approach to delivering innovative medicines.

The event will bring together experts in healthcare, researchers, patients, industry, regulators, payers, policy makers and other relevant stakeholders, in a series of 5 sessions over two half days, delivered through a series of keynote lectures, round tables and discussion fora.

ECPC President, Francesco de Lorenzo, has been invited to present a session on Empowering Patient Involvement in Cancer Research, on 19
th 
September at 13:30 CET. While, ECPC Past President and Chair of the Scientific Committee, Kathi Apostolidis, will moderate with Prof. Mark Lawler, member of the Scientific Committee, a session on Turning Data into Intelligence for Patient Focused Oncology Drug Development, on 20
th 
September, from 10:30 to 12:00 CET.
| | |
| --- | --- |
| 📆 When: 10 – 20 September 2022 | 📍 Where: Hybrid / Amsterdam (NL) |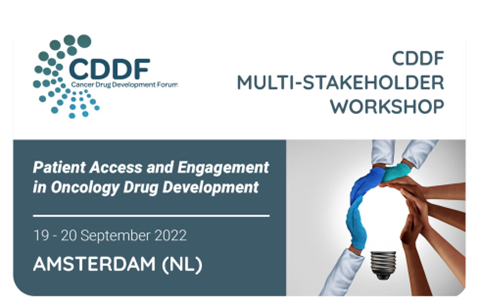 The Economist's 8th Annual World Cancer Series Europe
Europe convenes a wide range of stakeholders critical to effective cancer care, to drive innovation, equity and excellence in cancer control across Europe.

The focus of this year's conference is "innovation, equity and excellence". The aim of the event is to identify strategies to accelerate innovation, reduce inequities across cancer control in Europe, and to build towards universally excellent cancer control and cancer outcomes across the continent.

This timely and important discussion occurs against the backdrop of implementing the EU Beating Cancer Plan, recovery from the coronavirus pandemic, and a Europe facing security challenges and a major refugee crisis.

ECPC has been invited and it will be represented by the President, Francesco de Lorenzo, who will participate in the panel: Which novel biomarkers are changing patient outcomes? on November 9, from 15:15 to 15:55 CET. ECPC Director, Dr. Charis Girvalaki, will also be representing ECPC together with Scientific Committee members Dr. Fran
ç
oise Meunier and Prof. Mark Lawler, who will be speaking at the event Fireside chat: Cancer knows no borders; lessons from the All Ireland Cancer Consortium, on 8
th 
November, from 16:15 to 17:00 CET. Click here for more information on the agenda.
| | |
| --- | --- |
| 📆 When: 8 – 9 November 2022 | 📍 Where: Marriott Hotel Grand Place, Brussels |
2022 World Cancer Congress
The World Cancer Congress offers a platform for some of the most influential stakeholders in public health and cancer control. Four years after it's the last edition of the World Cancer Congress in Kuala Lumpur, the Union for International Cancer Control (UICC) will once again convene the global cancer community at the 2022 World Cancer Congress on 18
th
 and 20
th
 October in the international health hub of Geneva, Switzerland, home to UICC, the World Health Organization (WHO) and many other international health organisations.

By bringing together the global cancer community, including decision-makers and influential leaders, the World Cancer Congress provides a unique opportunity to learn, connect, form partnerships, and share a transformative agenda for greater cancer control and the international and national levels.

The 2022 World Cancer Congress presents once again a programme based on session proposals around the world on a wide variety of key topical issues in cancer control, as well as opportunities to network and share experiences and best practices.

Secure your seat by registering here.
| | |
| --- | --- |
| 📆 When: 18 – 20 October 2022 | 📍 Where: Geneva, Switzerland |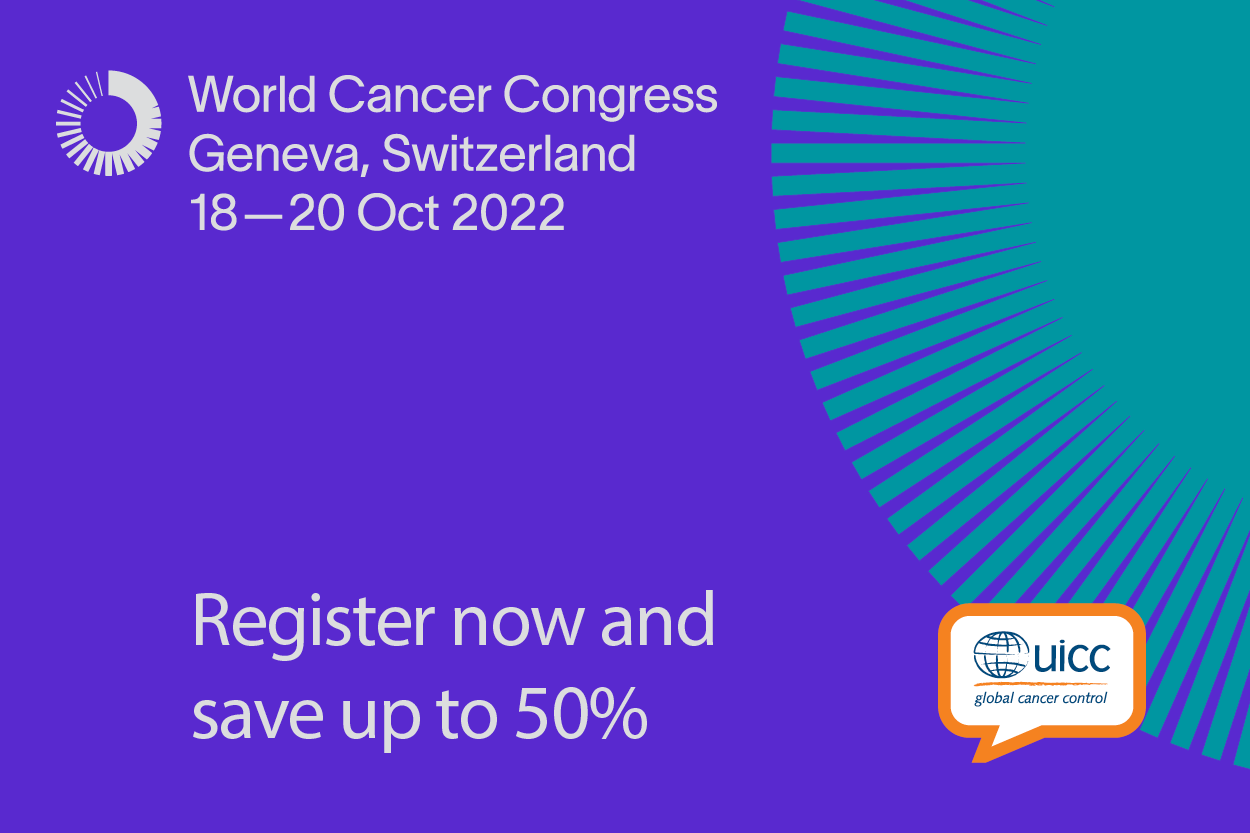 -1°C
Hrvatska udruga leukemija i limfomi
predsjednik Dražen Vincek
Trg hrvatskih velikana 2/ll
10 000 Zagreb
OIB:51774844072
MB: 01136763
REG. BR.: 00000797
GSM: +385 (0)91 4873 561
TEL: +385 (0)1 4873 561
e-mail: udruga.hull.zagreb@gmail.com
Web adresa: www.hull.hr
IBAN: HR 36 2340 0091 1100 4711 4
SWIFT CODE: PBZGHR2X
Igor Delač- Samo zbog vas
(Ivan Zečić/Miroslav Zečić – Miroslav Zečić/Ivan Zečić) ℗ 2021 Croatia Records
Istaknuti sponzori HULL-a